Research Questions and Timeline
The study is motivated by research that suggests that meaningful learning in the classroom occurs when teachers have deep understanding of their subject and can teach in flexible, inquiry-based ways. One way to enhance teacher practice is through effective teacher professional development programs that address subject matter and pedagogy. Combined with emerging research and feedback regarding the unique benefits of online professional development programs, the study focuses on the interplay between online teacher professional development, classroom teaching, and student learning.
ABE-NY is a study of high school biology teachers in New York that asks two main research questions:
Research Question 1: Does participating in the professional development program increase teachers' content and pedagogical knowledge?

Research Question 2: Is student learning influenced by teachers' participation in the professional development program?
This is a five-year study that began in October 2007.
| | |
| --- | --- |
| Year | Activities |
| 2007-2008 | Planning and Development |
| 2008-2010 | Study Implementation and Data Collection |
| 2011-2012 | Data analysis and Dissemination |
All participants in the ABE-NY study are New York state public high school biology teachers. They teach at least one course of Living Environment, the standard high school Biology course taught in 9th or 10th grade in New York State. Students in their Living Environment classes also participate in the study.
The ABE-NY teachers come from towns small and large all over the state (see map of participant distribution below).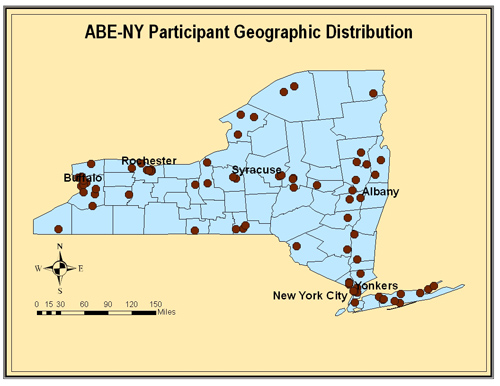 Click here for participant FAQs.
Research findings can be found on the main project website at ABENY.CCT.EDC.ORG
Publications and Presentations
Publications and presentations can be found on the main project website at ABENY.CCT.EDC.ORG